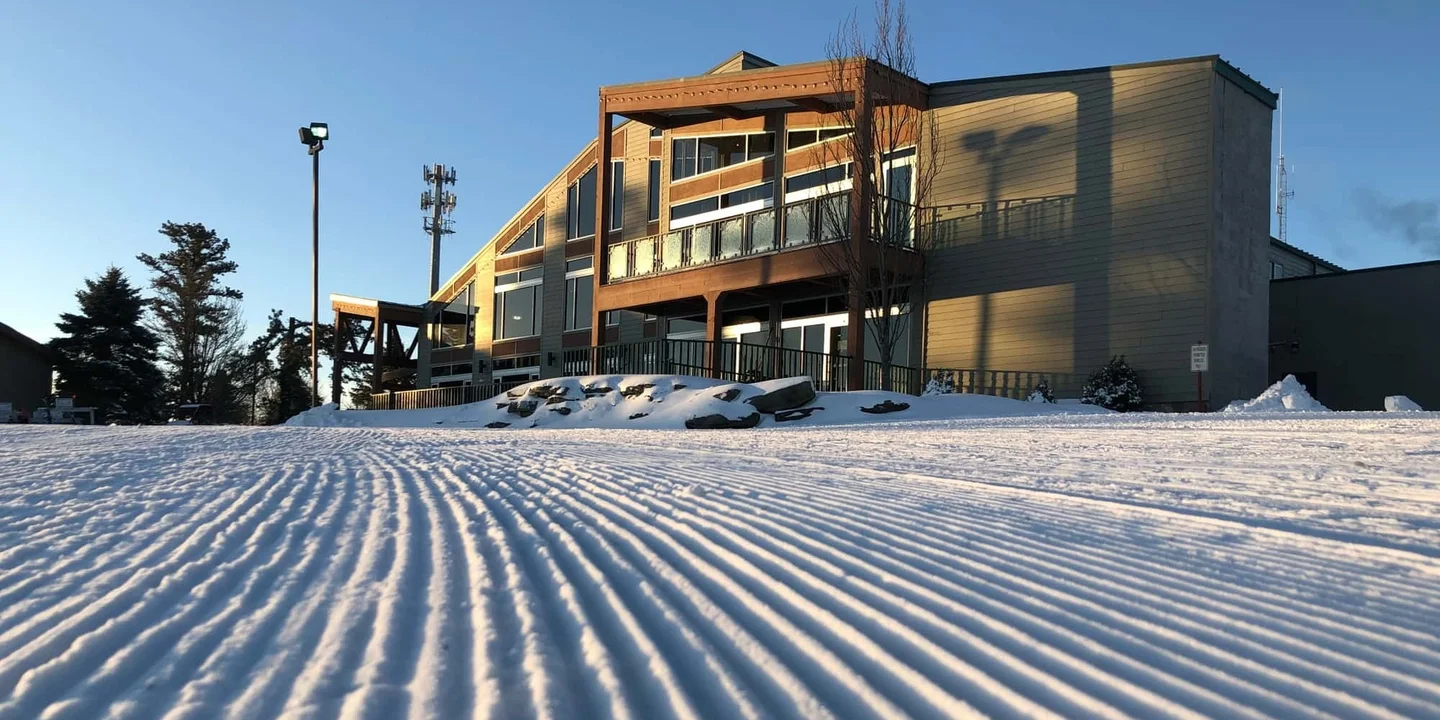 Tips for First Timers
Thank you for choosing Ski Big Bear! Our mountain is perfect for those looking to ski/ride for the first time. Our gentle learner slopes paired with a one-on-one private lesson will have you feeling confident in no time! Read on to learn more about skiing and riding and what makes Ski Big Bear perfect to get you started!
Getting Started
Skiing and snowboarding are great activities for children and adults. It is a sport that allows for multiple generations to get off their electronic devices, play outside together and have chats together on the chairlift as they ride to the top of the mountain. New technology in skis has prompted many people to try the sport. Snowboarding, once thought to be just for kids is now being enjoyed by children and adults. Ski Big Bear at Masthope Mountain is a great place to learn how to ski or snowboard. We have patient and fun instructors who work hard to help you succeed. We also have a variety of terrain, allowing you to gradually progress, while also allowing your friends and family who may not be beginners to ski or snowboard more challenging terrain. First time skiers and snowboarders are usually excited to try it, but may also be a little nervous about trying something new. Hopefully this information will help prepare you for your first day of skiing or snowboarding with us!
Safety on the Slopes
If you have mentioned that you want to learn to ski or snowboard, chances are you have thought about or someone else has told you that there is a possibility for injury. Since 1970, ski injuries have dropped 50% due to changes in technology affecting ski equipment. Our mountain maintains a ski patrol whose sole purpose is to maintain safety on the mountain. They will check passes, provide first aid and supervise behavior on the mountain. By using the facilities at Ski Big Bear, you agree to the waiver that is printed on the lift ticket. But it is always your responsibility to ski and ride in control at all times.
Use Common Sense... it's one of the most important things to keep in mind and practice when on the slopes. The National Ski Areas Association (NSAA) believes education, helmet use, respect and common sense are very important when cruising down the mountain. NSAA developed "Your Responsibility Code" to help skiers and boarders be aware that there are elements of risk in snowsports that common sense and personal awareness can help reduce. Read more about mountain safety here.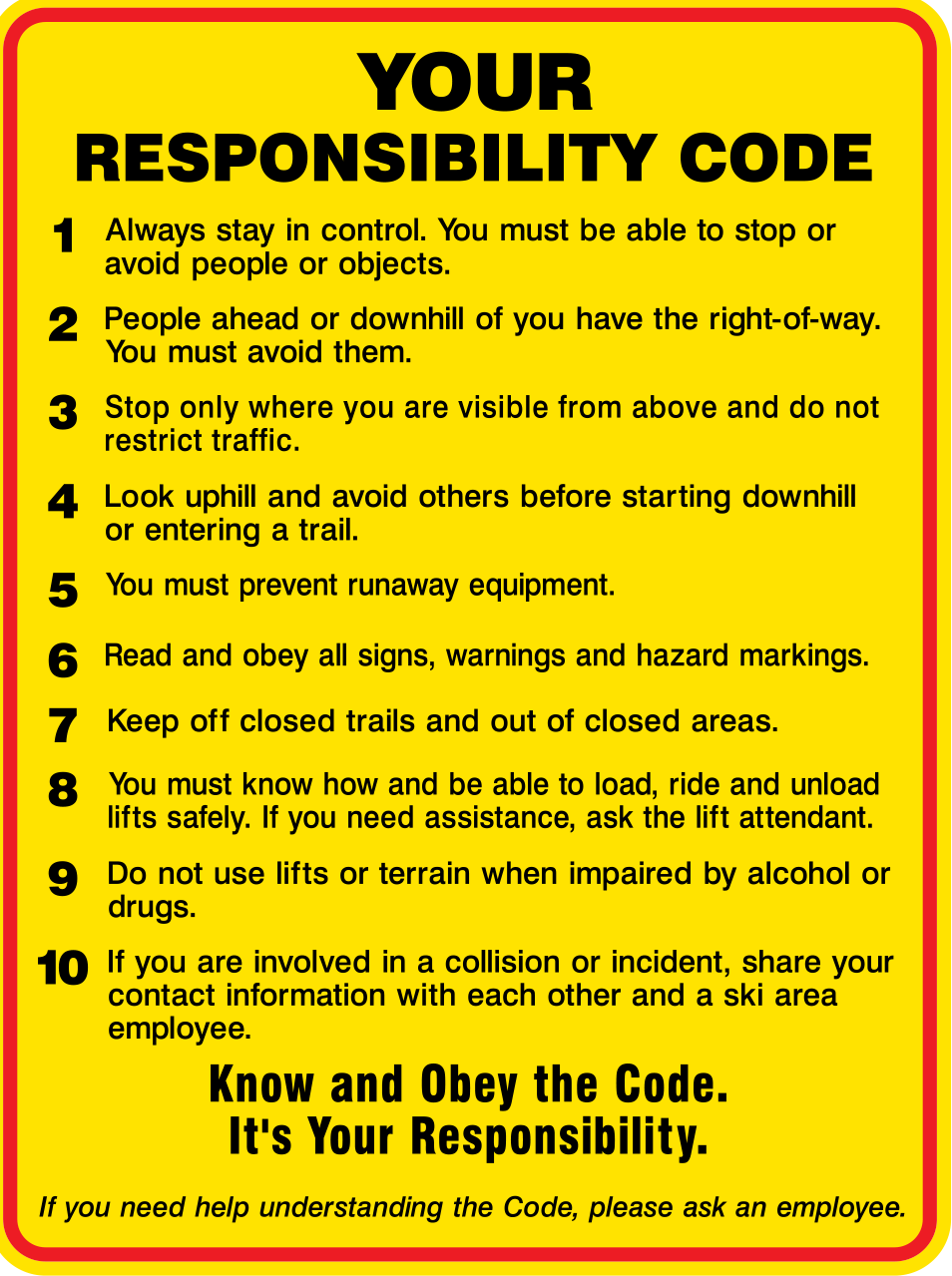 Trail Ratings
Ski ratings are applied to all ski slopes. By categorizing slopes, ski areas make it obvious which runs are meant for which level of skier. Ski slope ratings are important because good trail selection can help prevent accidents and falls. As long as you understand the color-coordinated symbols and trail signs, on-mountain navigation becomes a lot more enjoyable.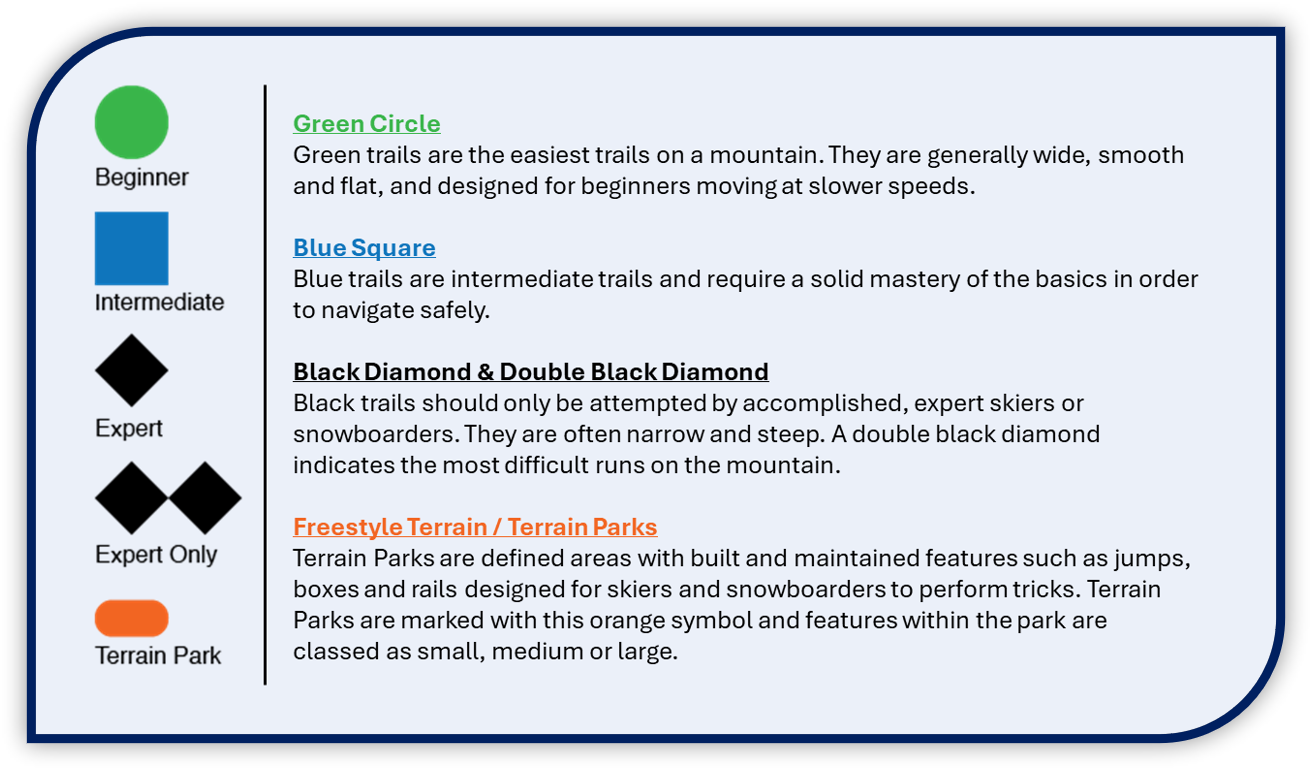 Manmade Snow
Most ski areas now incorporate manmade snow into their season to provide a great base of snow, extend the season and augment what Mother Nature provides. Ski Big Bear has the capability to make snow on all of the trails and tubing area. Snowmaking requires water, compressed air and very cold temperatures. If it's cold enough to make snow, we will be working to make the best snow possible. If there isn't snow in your backyard, come to ours, we'll have plenty.
Surface Lifts (Magic Carpet and SunKid Lifts)
The Magic Carpet and SunKid are surface lifts... a way to get back to the top of the mountain without having to ride the chairlift. Think of it as a moving sidewalk for the snow. Your feet never have to leave the ground. These lifts allow you to ski or snowboard to the bottom of the Snowbird Trail, where you'll then scoot onto the conveyor, and it will take you back to the top. Ski Big Bear has 3 surface lifts which are available at a reduced rate for beginners.
Chairlifts
Ski Big Bear has 4 aerial chairlifts. Each chair on the chairlift is able to hold one or two people. The chairlift takes you to the top of the mountain. Chairlifts require a little practice to use. Beginners should start with the Little Bear Chair. Ski Big Bear recommends that you take a lesson with our Ski and Ride School to learn how to ride the chairlift. Make the lift attendant aware if it is your first time riding the chairlift. No matter how long you have been riding a chairlift, you should ride with the bar down, sit still, always face forward, and never reach for a dropped item.
Clothing
Skiing and snowboarding are active sports. You will want to wear comfortable clothing, and it is advisable to dress in layers... preferably clothing with insulation and wicking properties. Layering allows you to add and remove layers as the temperature changes. If you start to get too warm and start to sweat, you want to be able to remove a layer or two. Otherwise, it may cause you to become too chilled when the temperature drops. If the temperature drops, you can add more clothing to your comfort level. Cover your basics with water resistant or waterproof pants and winter jackets.
Warm Feet
What about your feet? It is advisable to wear one pair of socks. Toes tend to stay warmer when they have the ability to move around. Wearing multiple pairs of socks tend to limit movement and in turn cause your toes to feel very cold. If your socks become wet, change to dry socks as soon as possible. Socks are available at ski shops including the one at Ski Big Bear that help to wick moisture away while keeping feet toasty warm.
Warm Hands
Gloves or Mittens? Usually this is a matter of preference. Mittens will generally keep your hands warmer than gloves.
Eye Protection
Goggles and sunglasses are a must when skiing or snowboarding. The reflective snow may cause UV rays to burn unprotected eyes. Even if it doesn't seem very bright outside, take precautions to protect your eyes.
Helmets
Helmets are recommended for anyone participating in snowsports. They can help to protect your head should you collide with another skier, objects on the mountain or the ground. Helmets are not all the same. A helmet used for an activity other than skiing or snowboarding will probably not protect your head as well as one designed specifically for skiing and snowboarding. Educate yourself as to proper use and fitting of a helmet. If you are not sure, we will be glad to help. Rentals are available. The National Ski Areas Association provides information on helmets and encourages all parents to get their kids skiing or snowboarding with a helmet.
Best Times to Go
Ski areas are busiest during Christmas week, Martin Luther King weekend, President's Day weekend and the week immediately following President's Day. Weekends are busier than weekdays. Ski areas generally do not close for weather unless the weather makes it unsafe to ski or ride the lifts. We typically remain open even on rainy days. If you aren't sure, feel free to contact us.
Lessons
Each year, Ski Big Bear provides hundreds of lessons to customers just like you. Most of our customers take private lessons. Having your own instructor allows them to give their undivided attention to you. This will help you get the most personalized service. Lessons generally last for one hour. Advance reservations are strongly encouraged for private lessons. Your first lesson will focus on working with your equipment. Moving, getting comfortable with your equipment, gliding, turning and stopping will also be covered. Depending on how quickly you progress, your lesson may include more. At the end of your lesson, it is customary to tip your instructor 10% - 20%. It is possible for two or people to share one instructor if they are of comparable ability. First Time Beginner Group Lessons are also available. Group lessons are open to anyone 6 and older. These lessons can include a mix of children and adult beginners. For a personalized experience, a Private Lesson is recommended.
When You Arrive for a Private Lesson
When you arrive at Ski Big Bear, go to the red flag at the top of the mountain labeled "Private Lessons." There, you will meet your instructor at the reserved time. You will need to have already picked up your equipment at the rental shop. We recommend arriving at least an hour and a half in advance of your reserved lesson time. If you happen to need anything, there is also a small ski shop that has some basics to help keep you comfortable. Throughout the day, take breaks to eat snacks and meals, drink lots of water and apply sunblock. Lockers in the rental shop and cubbies in the lodge are available for storing shoes, bags, etc.
Lift Tickets (Area Use Tickets)
Lift tickets are required for everyone on the mountain, no matter their age. There is no charge for a lift ticket for children 5 years or younger with a paying adult, but they must have the lift ticket. Lift tickets have an abridged waiver printed on them. By using the lift ticket, you are agreeing to the waiver. All lift tickets are non-refundable and non-transferable. Ski Big Bear introduced an access card containing an RFID chip during the 2020/21 winter season to replace paper tickets. Lift tickets are loaded electronically onto this RFID access card. The card is scanned by either a scanner or a gate at the lifts. The card can be reloaded online with future tickets, which allows for direct to lift access.
Rental Equipment
If skiing, your rental package will include skis, boots and poles. Snowboard rental packages include boots and a snowboard. Helmet rentals are available for an additional fee. The staff will adjust the bindings on the skis and snowboards to fit you and your style of skiing or snowboarding. Be prepared to provide the rental shop with your height and weight to make the appropriate adjustments.
Children
Your kids are going to LOVE Ski Big Bear! Our Ski & Ride School is the perfect place for them to start. We provide private lessons for children as young as 4 years of age. Group lessons are available for children as young as 6. Group lessons are available for 1st time beginners only.
Resources