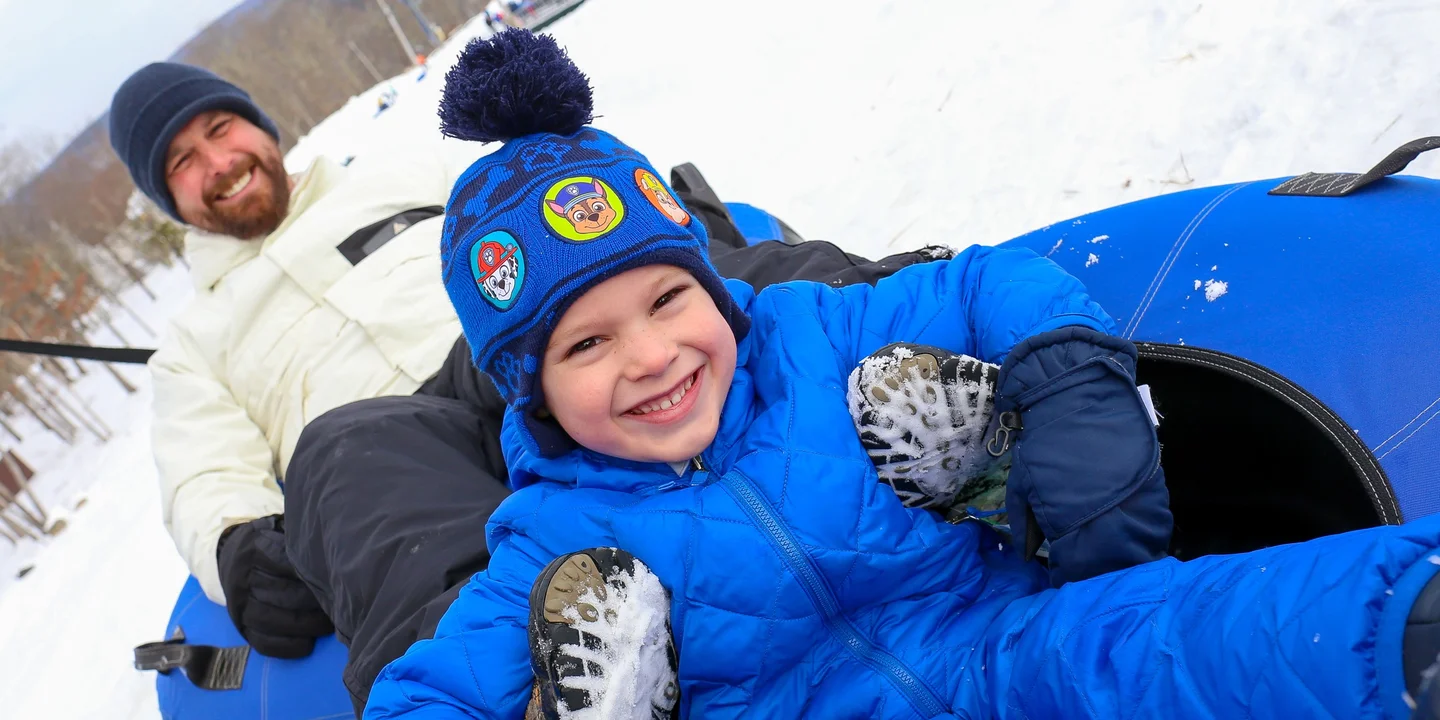 Tubing
Snowtubing is the perfect way to get out on the snow with no specialized equipment or lessons required! Our snowtubing hill is great for friends and families and is sure to provide an exciting and thrilling experience. With our magic carpet lift, there's no need to hike to the top of the hill... all you have to do is just enjoy the ride!
Plan Ahead! Save Time & Money by Purchasing Tubing Tickets Online:
Purchase Online
Tubing is available on weekends and holiday periods, weather permitting. Tubing tickets are $33 per person per session when purchased online. A set amount of tickets is allocated for sale for each session. Advance online purchase is strongly suggested. Anyone arriving late for their purchased session will forfeit their missed time. Requests to change purchased session times will incur a $20 change fee.
All participants must be at least 42" tall even if participating with a parent or adult. A waiver must be signed at the time of purchase.
If a child under the age of 18 wishes to participate, a parent must sign the waiver. Double tubes are available for a parent to ride next to a child. Children may not ride on laps.
Tubing is regularly available on Saturdays and Sundays. Additional hours are available during holiday periods.
All tubing hours are weather dependent.
Regular Tubing Hours
Tubing will open for the season on Tuesday, December 26, 2023
Saturdays
10:00am - 12:00pm, 12:30pm - 2:30pm, and 3:00pm - 5:00pm
Sundays
10:00am - 12:00pm and 12:30pm - 2:30pm
Holiday Tubing Hours
Tubing will open for the season on Tuesday, December 26th, 2023
Tuesday, December 26th, 2023 - Sunday, December 31st, 2023
10:00am - 12:00pm, 12:30pm - 2:30pm, and 3:00pm - 5:00pm
Monday, January 1st, 2024
10:00am - 12:00pm and 12:30pm - 2:30pm
Saturday, January 13th, 2024 and Sunday, January 14th, 2024
10:00am - 12:00pm, 12:30pm - 2:30pm, and 3:00pm - 5:00pm
Monday, January 15th, 2024
10:00am - 12:00pm and 12:30pm - 2:30pm
Saturday, February 17th, 2023 and Sunday, February 18th, 2024
10:00am - 12:00pm, 12:30pm - 2:30pm, and 3:00pm - 5:00pm
Monday, February 19th, 2024
10:00am - 12:00pm, 12:30pm - 2:30pm, and 3:00pm - 5:00pm
Wednesday, February 21st, 2024
10:00am - 12:00pm and 12:30pm - 2:30pm
Friday, February 23rd, 2024
10:00am - 12:00pm, 12:30pm - 2:30pm, and 3:00pm - 5:00pm
Saturday, February 24th, 2024
10:00am - 12:00pm, 12:30pm - 2:30pm, and 3:00pm - 5:00pm